Training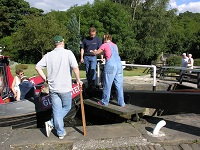 What we most want is for you to enjoy your Yorkshire canal boating holiday. For this, you need confidence that you can handle the boat and work the locks, so we help you quickly to learn the ropes.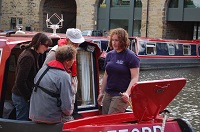 Our boats are designed to be easy to handle, with straightforward controls. The locks may seem strange at first, but they work with beautiful simplicity, and commonsense will get you a long way.
Plus - by modern standards everything happens V E R Y S L O W L Y so you have time to work it out!
So don't worry - we'll show you what to do.
Canal locks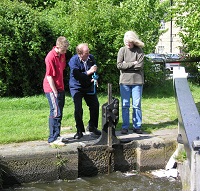 Here we are, showing newcomers how to work a lock.

Locks are a very elegant way of moving your boat up or down between different levels of canal. So with your own hands you can raise or lower your boat - weighing up to 16 tons. How's that for effort?
How we do it
As soon as you book you can look at a special web page.
Before your holiday we send you an Information Pack. This contains the Canal & River Trust Boaters' Guide and DVD, plus our own Holiday Guide and a Route Companion tailored to your holiday.
Time for some homework!
When you arrive, we brief you on the waterways you will travel, then do a technical handover of the boat (in plain English, of course).
Now you are ready to set off, with one of our experienced instructors. A short journey brings you to your first lock. Here we explain how everything works, then take your boat through with you, step by step. We accompany you through two more locks, before it's time to say goodbye.
Our whole handover process is quality assured by British Marine.