Reviews
Here are some things recent customers have said:
The journey
Scenery tranquil, majestic, surprising, idyllic. People warm, friendly & extremely helpful and interested/interesting. Stubbing Wharf and Grandma Pollards were both memorable and great value.
Alex and Tony, Cambridge
We all loved the scenery. We would recommend the Dusty Miller at Mytholmroyd; the White Hart at Todmorden; the Cross Keys at Walsden. Easy bus trip from Hebden Bridge to Heptonstall (historic village).
Polly, Sussex
Lovely overnight moorings at Shepley Bridge. Nice to share locks with another boat. Met lovely couple from Chester but everyone so friendly.
Mrs Clarke, Devon
Best holiday ever (so far!). We were teamed up with brilliant couple in Oxford for locking. Fantastic.
Mrs Care, Northumberland
Handover and service
Very detailed & thorough - just what we needed. Friendly introduction for us.
Julia & Tony, Cambridge
Good explanation from Susan. Our trainer, Will, was brilliant. Very friendly, relaxed and knowledgeable.
Short/Humphries, Devon
All staff very helpful and excellent.
Mr Nunas, Devon
Boats
The Norfolk was beautiful and clean and well equipped - loved the boat
Mr Phillip
Good. Well presented, clean, well equipped and well designed.
Mrs Brown, Hereford
Good, clean, all the mod cons required, comfortable.
Mrs Peralta, York
Layout first-class; best we've seen. Very comfortable yet flexible - felt bigger than its length.
Mr & Mrs Parker, Stafford.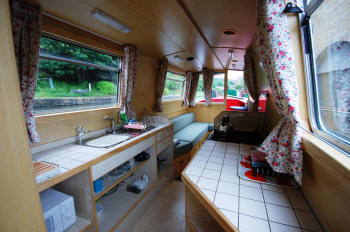 Very good layout, fully equipped, clean, tidy and very good condition.
Mr Seville, Somerset