About Shire Cruisers
We are a family boatyard and hire fleet in Yorkshire. Our main base is in the historic, beautifully restored canal basin at Sowerby Bridge, built as the interchange between the Calder & Hebble Navigation and the Rochdale Canal. Our office and wet dock are in a canal warehouse which was in use before the French Revolution.
Holiday hire boats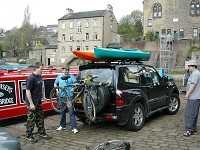 Since we started in 1980, we have steadily expanded and now have 17 boats, with a second base on the Leeds & Liverpool Canal. We are the largest hire fleet using the restored Rochdale and Huddersfield Narrow Canals, and provide an unrivalled information service. So with us you can confidently explore the canals on both sides of the Pennines.

Our friendly staff are highly skilled, and build and look after our boats beautifully. They will look after you on your Yorkshire canal holiday.
Narrow boat moorings
We also operate 50 moorings for private boats, and provide full boatyard service.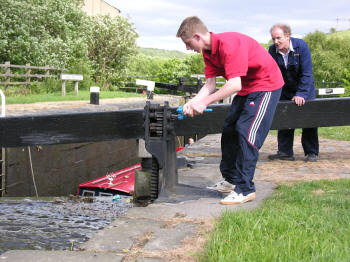 Training
We accompany every crew through the first three locks. This gives us the chance to show all our customers the quirks of our local waterways, and is a great opportunity to show first-time boaters the basics. With our help, you will soon pick it up.
Before your holiday, we send you the Canal & River Trust's Boater's Handbook and DVD, with our own special Holiday Guide and Route Companion specific to your holiday. These really help to set the scene.
See more on our Training page.