Yorkshire Canals
Ratty may not have been a Yorkshire lad, but he was right: there's nothing to beat messing about on boats. And the joy of canal boating is that you don't have to learn complicated things like sailing or navigation - you can start enjoying yourself straight away.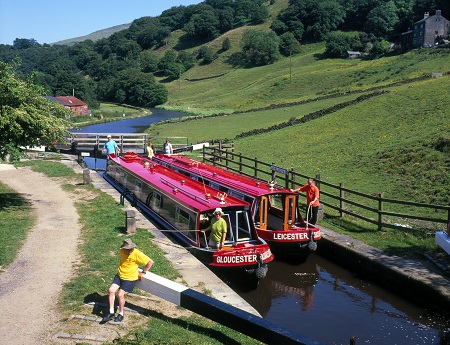 Boating holidays
The Yorkshire canals were made for enjoyment - well of course they weren't, they were for carrying coal and grain and wool in barges - but folk two centuries ago knew how to build to last, and today's lot know a good thing when they see it. So all around more people are finding more ways to use the canals, and boating holidays are one of the best. Take your accommodation with you in a snug, cleverly planned narrow boat and in the words of Arthur Daley, the world is your lobster.
Explore the Pennine canals
High above the roof tops or under the hills in tunnels; alongside tumbling streams or through buzzing city centres: there's always something new round every corner. The Pennine canals have an up and at 'em quality that's still reflected in the attitudes of Yorkshire people.
These days you can still see people working by the canal (the best holiday occupation!) but the grimy mills have long since been turned into sought-after flats and offices.
The best things about a Yorkshire boating holiday are the companionship of your crew, the friendly locals, the stunning scenery, your charming narrowboat (or barge), the amazing pubs and the sheer improbability of arriving in a new place by water - and not having to find somewhere to park the car.
Enjoy this site, and enjoy planning a fantastic Yorkshire canal holiday.
This site is for first-time boaters on Yorkshire canals. You may also have arrived here because your browser is Internet Explorer 10 or earlier.
Details of our
canal holidays
for experienced boaters, including our celebrated one way trips and rings, are on our main site.
Check availability here.